The Right Preschool Can Put Your Child On the Path to a Lifetime Love of Learning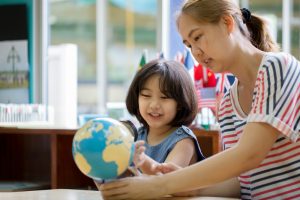 Maplewood parents, have you been wondering about preschools? At Alpine Montessori, we often hear from parents with lots of questions about preschool. Is preschool necessary? Do kids do more than play in preschool? Is there a difference between preschool and daycare? What is the Montessori approach to preschool? We believe that preschool can be an incredibly important part of your child's educational path. A great preschool, which fosters a love of learning, can help create a lifelong learner in your child. On the other hand, rigid preschools that do not encourage exploration or that pit children against each other can leave children with negative feelings about school that can linger for a lifetime.
While preschool may not be necessary, it is a wonderful way to transition children from a non-school environment to the more rigorous demands of primary school. The Montessori approach means that children get to work at their own pace, and that teachers can take their physical, emotional, cognitive, and social differences into account instead of treating children as a group. This is fantastic for children on either end of the spectrum of needs, by giving them the opportunities to explore at their own pace, instead of feeling frustrated by being out-of-sync with the rest of the class. While Montessori emphasis freedom from structure and a certain amount of play, children are exposed to a wide range of learning topics and encouraged to explore those topics that interest them. This is great way to foster a love of learning in a non-competitive environment.
Montessori is best understood by visiting the classroom and seeing how Montessori encourages children to learn at their own pace. To find out if Montessori if the right approach for your child's preschool, visit one of our locations in Millburn, Sparta, or Oak Ridge.