Lake Cumberland Lodge – The Perfect Hide-Away Vacation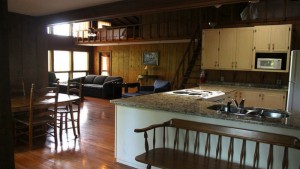 One of America's leading vacation spots is Luke Cumberland in Kentucky. It's estimated that over four million vacationers visit it every year. The lake touches six counties in Kentucky and extends for over 1,200 miles of lakefront beauty. There is a state park situated on the northwestern lake shore with lodges cabins and camp grounds, and in fact, marinas, camp grounds, water parks, golf courses and cabins dot the entire shore line of Lake Cumberland.
Accommodations and Amenities
Lake Cumberland Lodge offers rooms with balconies, full kitchens, comfortable appointments, air conditioning, TV and WIFI. Just a few minute's walk to the lake brings you all the fun filled excitement the lake offers. Boating and Jet Ski rentals are a perfect way to explore the many hidden coves and inlets on Lake Cumberland. The lake features trout for the fisherman and picnicking by the lakeside or on a pontoon boat are popular activities.
Outdoor and Indoor Activities
There are outdoor water activities for the entire family, but while the kids are water skiing, swimming and tubing, unwind on the sandy beaches, and throw some steaks on the grill. Take a walk along the shoreline, or visit one of the sparkling waterfalls. If you prefer a quiet day indoors or play a game of pool in the lodge. Enjoy the lakeside view as you sit out on the balcony and relax.
Nature Trails and Dining
Miles of nature trails crisscross the forest surrounding the shore, and an evening campfire is the ending to a perfect day. When the day's adventure is done, head back to the lodge, and get ready to dine out for a delicious meal. When the evening is over, slip into your comfortable bed, and let the quiet solitude of the lake put you to sleep.
With spacious and luxurious accommodations, and fun for everyone is it any wonder that Lake Cumberland Lodge is such a popular destination? It's open all year, and prices are affordable for your vacationing pleasure. Whether you are single or a large family, there is a lakeside fun filled and adventurous vacation waiting for you at Kentucky's Lake Cumberland.