2017 Absolute 40 STL HT: Benefits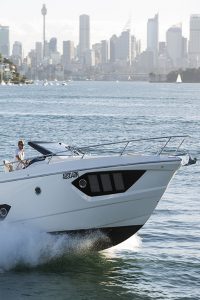 Many people enjoy boating, and as such, have decided to consider a shareholding scenario where they own a part of the boat and get equal rights. It can make it much easier to own and doesn't have nearly as many problems associated with traditional ownership. Once you've decided that a syndicate program is right for you, the 2017 Absolute 40 STL HT is going to be your dream boat.
It is a day boat, and it is highly practical and versatile – not the words that would make you fall in love just yet, but then you take a glance at it. Just one look will tell you that it's elegant and stylish, but it is entirely functional at the same time. You and your guests will be amazed each time you board it, and it has plenty of cockpit seating, which ensures that you can entertain many guests at once. It has a Volvo D6-330hp Diesel engine and can sleep up to four people.
If you've decided that the 2017 Absolute 40 STL HT is the boat for you, it's time to consider your options. While you could go to a shop and buy one, it also means dealing with maintenance, storage, moorage, and more. If you go through a syndicate program, you'll own one-eighth of the boat and will still get plenty of time on it. Boat sharing ensures that you get a hassle-free boating lifestyle, regular/routine maintenance, and something that is cost-effective and efficient. Plus, it is suitable for any level, including novices as you can get the training you need.
At Luxury Boat Syndicates, you get professional management at every turn. They focus on the paperwork and other duties so that you can spend more time enjoying your new lifestyle. When enough people generate interest, you all put down your part of the money and own it. They become the management team and ensure that everything about your 2017 Absolute 40 STL HT is in good condition.