Tips for Choosing Custom Glass Shower Doors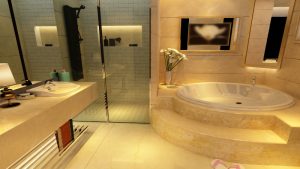 Custom glass shower doors are an excellent addition to your bathroom. Shower doors keep water in the shower and provide a more sophisticated look. Placing a custom order allows you to personalize the look and ensures you get the perfect fit. The following tips will help you choose the right shower door.
Frameless or Framed
Custom glass shower doors are available in two basic types: frameless and framed. Many homeowners choose frameless shower doors to create a seamless, minimalistic look. The clear view allows you to show off your tile walls. In addition, frameless shower doors are less susceptible to mold and easier to clean. However, framed shower doors are typically more affordable.
A Customized Look
When ordering custom glass shower doors, you can customize the look of your bathroom. Stock doors will do the job, but ordering custom options allows you to choose the glass type, tint, color, etching, and other features. You have complete control over the result, helping you design the beautiful bathroom you want.
Take Careful Measurements
Taking accurate measurements is essential to avoid receiving custom glass shower doors that don't fit correctly. When placing your order, the glass company you choose may send someone to measure your shower or provide instructions to do it yourself. If you do it yourself, measure it several times to ensure accuracy.