Storage Using Yard Trailers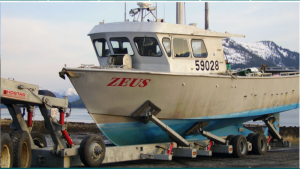 Buying a boat is a life changing event. Chances are you have spent a lot of time and, possibly money, researching and finding the perfect vessel for you and your family. While this can be an exciting time, purchasing a boat is also a major investment. Besides making all the important decisions on what you are looking for in a boat, there are numerous other choices that are important to consider.
Ways to Store Boats
One important question to think about is where and how you are planning to store your boat. Some places to store include a marina, a storage unit, or, if you're lucky enough to have space, at your home in your lawn or garage. Some options for ways to store your boat include dry racks, boat lifts, wet docks, or trailers. Regardless of the location, a popular way to store boats is using yard trailers. Buying your yard trailer can be a cost-efficient decision.
Advantages of Yard Trailers
Firstly, owning your yard trailer eliminates rental fees. Additionally, by researching models, you will quickly be able to determine what it is you are looking for, and will have a better idea of how the trailers work and operate. Having the ability to operate the storage equipment yourself gives you the independence to not have to rely on a company to care for your boat and ensure its safety when you can have access to it, and it also helps you become a more experienced expert on your boat and its needs.
Parts of a Trailer
There are four main parts of a yard trailer, which include the following:
Frame
Arms
Cross beams
Tires
Frame
Primarily, yard trailers are constructed of steel. These thicker metals are stronger and more supportive. Frames can range in size and weight capacity, and some are adjustable for different boat models.
Arms
Ideally, arms have the ability to pivot so they can adjust for different size boats. Sometimes, the arms are hydraulic for less pressure on the remainder of the frame to decrease chance of breakage.
Cross Beams
The cross beams add additional support to the body of the boat.
Tires
Tires allow for transportation of your boat. The tires lock into place to secure the trailer in place.