Profill Makes Short Work of Your Most Tedious Process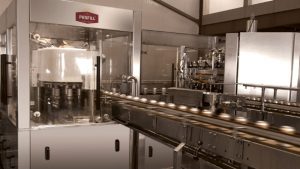 Bottle, can, and keg filling is the most tedious part of the entire brewing process. It's also the final step to getting that product out the door, so it's critical that it runs smoothly so that you can meet your distribution demands. When you fall behind in your filling process, business stops even when you have plenty of beer on hand.
Breweries employ many different methods to accomplish keg, bottle and can filling. Some fill on site, while others pay mobile canners to fill cans for them.
If you're looking for a simple way to manage your filling process efficiently and cost effectively, turn to the ProFill products. These products give you control over your filling process and allow you to bring it in house.
ProFill machines offer a small footprint, so it's easy to house these in your facility. There are ProFill machines designed specifically for bottles, cans, and kegs, and each is available in a variety of speeds and configurations. You can choose the right size machine for now, and scale it later to meet growing business needs.
Your equipment vendor is your best resource in helping you choose the right ProFill products. They can show you how these products can save you money and increase your production numbers, as well as your overall efficiency.
Your vendor has worked with other brewers to help them increase their efficiency and streamline their processes. They can offer valuable business advice as well as provide you with the equipment you need to increase production and profits.
Once you have streamlined your filling process with ProFill equipment, you'll be amazed at how your brewery hums. The bottles, cans, and kegs will be filled and ready to leave the brewery in record time, and with little or no hassle or extra intervention.