Dielectric Welding for Medical Products and Beyond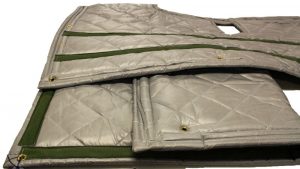 The durability of medical products can be critical to both the health and safety of patients and medical staff, as well. Medical practitioners must have confidence that fluid collection bags, ostomy bags, and other products that might contain hazardous material or potent drugs are properly sealed to offer no danger of leaking or breaking.
Dielectric welding, also known as RF welding, is widely used to make products for the medical industry for this reason. This particular form of fabric and plastic welding offers the most reliable seal you can find. Dielectric welding isn't just a good idea; it has become the industry standard because of its reliable and durable seal.
While the medical industry is one of the widest users of dielectric welded products, the impressive durability this technology provides certainly has many applications beyond the medical field. Many products you need to have an impermeable seal can be RF welded.
Though this technology could have application in many industries, only a few routinely make use of it for their products. It certainly could be used to improve the durability of a wide range of industrial products on the market today.
If you currently use an industrial sewing contractor to make specialty cases or other products, talk with your vendor about their capabilities with regard to dielectric welding. This technology may be able to improve the products your industry relies on.
Sewing contractors that use dielectric welding can work with companies in other industries to help improve the quality of many kinds of products. These companies already work in industries like law enforcement, who need extremely durable and safe products for their everyday jobs. If you believe dielectric welded products could benefit your industry, talk with a specialty sewing contractor to get the best products for your industry.