DiamonDyze™ – The Product for Advanced Nano-ceramic and Colored Anodizing Applications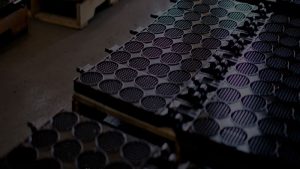 Comparatively speaking, only a limited number of DiamonDyze™ license applicators operate in the United States. DiamonDyze™ is a nano-ceramic technology that utilizes anodizing processes for the production of superb quality finishes. The wear and corrosion resistance on anodize surfaces affected by this product exceeds that of many other anodizing applications.
The DiamonDyze™ nano-ceramic and colored anodizing product constitutes a significant step in innovation. When you're looking to have this product applied to your components, it's important to hire a company with the licensing rights to use this treatment.
How Can DiamonDyze™ Benefit You
Substrate surfaces can benefit from a couple of important characteristics applied by DiamonDyze™. These include color and specific protective qualities. These characteristics can be added with a simple application of the product without the addition of other coatings.
This makes the application process fast and efficient which is beneficial to the customer as well as the metal finishing company applying the product. There are a variety of benefits inherent with the use of DiamonDyze™. These include:
Creation of a smoother surface with fewer pores
Good thermal resistance
Enhanced corrosion resistance
Good chemical resistance
Standard color options, including different shades by blending existing colors
Enhanced resistance to indoor wear and tear
Requires less energy and less toxic material
DiamonDyze™ and Its Use With Aluminum
Aluminum benefits extensively from the process of applying DiamonDyze™.
A range of aluminum components, including those in the 2024 and 6061 categories, maybe anodized by utilizing DiamonDyze™. These components include: cylinder heads, cylinder sleeves, intake manifolds, turbo intake housings, pistons, rocker arms, and shock absorbers.
This product can provide benefits to multiple industries including automotive, hardware, and marine.
DiamonDyze™ – Providing Excellent Anodizing Results
Research has demonstrated the benefits of using DiamonDyze™ over other standard anodizing products. As indicated previously, this product provides for a one step dying and anodizing process that results in an exceptional quality component. It can be utilized for applications involving Type II and Type III anodizing for the creation of outstanding corrosion resistance and color results.
Consider contacting a professional metal coating services company to find out your options regarding DiamonDyze™ and achieving a high quality coating results year project requires.
About The Author
Related Posts