Clean Ride Limo: Florida's Ultimate Party Bus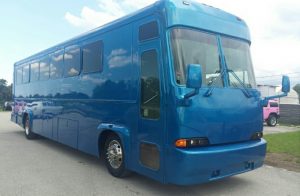 Thinking about hiring a party bus to handle the transportation for your next Florida event? Party buses are not just a trendy thing to have at a party, but actually a great solution to a number of logistical issues that can arise when you are trying to move large groups of people from one-place to another.
Why is a party bus a better choice for large-group transportation than other types of transport? Well, as the name suggests, the party bus lets you keep the party going while the transportation is occurring. This makes a party bus a great way to travel, whether you are going bar-hopping and need a professional designated driver, are taking a large group to a tailgate party or similar event, or want to move large groups of people between destinations at an event like a wedding. Sure, you could hire several limos to do the same job, but using a party bus allows you to keep the whole group together, or at least to break a huge group into fewer groups, which means less worrying about coordinating multiple vehicles.
If the word "bus" conjures up visions of big yellow school buses or other forms of public transportation, have no fear- at Clean Ride Limo our party buses are extremely stylish. They come equipped with all types of multi-media devices including televisions, stereo systems, and devices that let you connect your technology and control the party. They are lavishly appointed and available in different themes to match your personality. Perhaps the biggest benefit of traveling on a party bus, especially to distant destinations, is that you eliminate the need for potty breaks; our larger party buses have clean on-board bathrooms.
If you still have questions about party buses, contact us today. We are happy to answer any questions you may have, as well as give you information about our party bus selection.