5 Reasons to Buy a New Volvo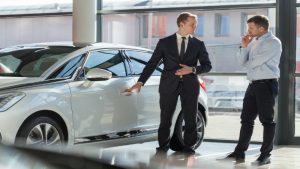 Need a new Volvo Palatine residents can swoon over? If you're in the market for a stylish, high-quality vehicle, then Volvo is probably on your list of brands to consider. To assist you with your decision, we are providing some reasons Volvo has, and continues to be, so successful in the auto industry. Here are 5 reasons to buy a new Volvo near Palatine.
Reputation- For a century, the Volvo Group has been making automobiles for Americans. A great reputation like this one is not given away, it's earned. There's a lot to be said for longevity, mainly that the Volvo group is good at what they do, otherwise they would not still be making high-quality automobiles today with the same pursuit of excellence they were achieving a century ago.
Safety- Volvo vehicles are a smart choice for those who value safety above everything else. Advanced features like Autobrake, Cross Traffic Alert with brake support and Rear Collision Warning, Adaptive Cruise Control, and advanced airbag systems make buying a Volvo the ideal choice.
Selection- From full-size SUVs to compacts to midsize sedans to pure muscle, Volvo has every customer's styles and needs covered. Visit a Volvo dealer near you to get an inside look – and while you're there, fill out a credit application or schedule a test drive.
Fuel Efficiency- Volvo automobiles were designed to provide people with the best fuel economy possible. With emissions-friendly vehicle engines, Volvo has optimized the powertrain to minimize fuel consumption. This will save you a significant amount of money at the gas pump over the lifetime of the vehicle.
Family Cars- If you're looking for a family vehicle, Volvo has them in spades. The XC60 is a beautiful all-round crossover that works well as a vehicle for people with young kids, thanks to its classy interior design, comfort, and, obviously, safety features.
Ready to test drive a new Volvo near Palatine? Contact McGrath Volvo Cars Barrington online to schedule an appointment. Your dream car is out here, waiting for you!