Why a Diamond Tennis Bracelet is a "Can't Miss" Gift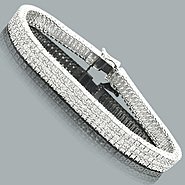 Does she have a birthday coming up soon? Maybe your anniversary is not far away. What can you give her that you know she'll love and appreciate? How about a diamond tennis bracelet? This kind of jewelry is a "can't miss" gift and here are some reasons why.
Versatility
A beautiful bracelet is suitable for almost any occasion. For example, she can wear it to the beach or while shopping. When she has a formal affair, a bracelet adorned with diamonds fits right in. Also, whether she wears black, white, or any other color, diamonds are a good choice. You can choose 14K gold, 18K gold, platinum, or sterling silver, and you'll match all colors and shades.
Perfect Fit
The average wrist size for women is seven inches. Most tennis bracelet lengths are 7 inches or slightly longer. If she is small to medium framed, you should have no problem with size. If you are not sure, ask her if she is small, medium, or large framed. Tell her to put her hand around her wrist. If the fingers overlap, she is small framed. If they barely touch she is a medium frame, and if the fingers cannot touch, she is probably large framed.
Diamonds
Some gifts are a "hit and miss" proposition. For example, she may like a specific kind of clothing, new appliance, or home interior item, but there's no way to know for sure. However, just about every woman loves and appreciates diamonds. Diamonds tell a woman she is special and your feelings for her are forever.
Price Ranges
You'll find a lovely tennis bracelet for her in all price ranges. For example, if have a limited budget, you can buy one for about $200. There are many excellent selections in the $1,000 range and all the way to superior bracelets in the $30,000 range.