Terrazzo Floors: Your Pick for Decorative Flooring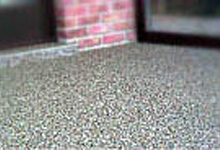 Your floor design can help make or break your space. If you want floors that are attractive, durable, green, and healthy, terrazzo floors are one of the best options to choose.
It offers a bevy of choices that you can explore. With plenty of colors, patterns, and designs, the possibilities are endless. You can go bold with dark or bright shades, or go with light hues. Choose whichever one works best for the rest of your interiors.
Properly maintained, terrazzo floors are among the most durable decorative flooring types out there. With the right polish and sealant, this flooring choice is a great investment that could serve you for many, many years. It's going to cost more than other types of floors you might put on your list, but when it comes to value for your buck, terrazzo is a solid and reliable choice.
Terrazzo floors use recycled bits of stone chips and scraps. It's also completely natural, so you're not releasing any gases or volatile compounds into the atmosphere when you work with this material.
It's also incredibly versatile. You can use it indoors or outdoors. If you've been wondering what kind of floor to use for your patio, or if you've been scouting around for the perfect kitchen floor, this is a great choice to consider, says SFGate. With so many designs, it goes with just about every room or space in your home.
One More Tip
It's best to make sure that the quality of the floor system is high. Terrazzo floors typically cost more, so if you find something that's dirt-cheap, one that seems too good to be true, then it probably is. Consult with experts to make sure you aren't getting taken in by dishonest manufacturers. While you shouldn't mind paying top dollar for the right floor, you shouldn't have to pay more than necessary either.