Protecting Yourself In Used Commercial Truck Sales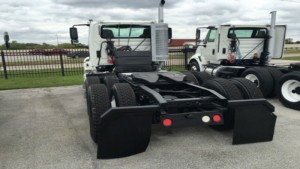 Buying used trucks for your company is a great way to save money and get a durable, reliable, slightly used truck at a great bargain. However, not all used commercial truck sales are the same, and there are some specific types of sales that are important to avoid unless you are very sure of what you are buying.
Unfortunately, low prices and great advertising often draw unsuspecting people into making a purchase they quickly begin to regret. With used light, medium or heavy-duty trucks being aware of the risks with specific types of used commercial truck sales can help you to be an informed consumer.
Equipment Auctions
Equipment auctions are always popular, but they are also a big risk if you are buying a used truck. At least be sure to bring a mechanic with you and plan to get there a few hours early to thoroughly check out the interior, exterior and engine of any truck you are considering.
Keep in mind with an auction all the information about the truck may not be available. This often depends if the truck is being sold by an existing company or a company now out of business.
Online Auctions
Buying online through any of the online auction sites for any type of used truck is always a risky idea. There may be issues with the vehicle, and you may find there are liens against the truck. It may also be impossible to track down the seller after the auction is completed, creating a whole new set of problems.
Typically with these auctions, the buyer also assumes all shipping costs, which can add hundreds of dollars to the cost for a vehicle you have not actually seen at the time of the purchase.
Private Sales
Buying from another company or from a reputable person may be a good option. However, you should still insist on having your mechanic check out the vehicle, and you should also have a chance to test drive the vehicle.
As with any type of auction, this will typically be a "sold as is" transaction, and proving the seller intentionally misled you can be a lengthy process that takes up both time and money.
The safest and most protected option for used commercial truck sales is to buy through a reputable dealer. This gives you the comfort in knowing the seller will be there if there is a problem, and also allows you to use their financing, their service center and their sales professionals help you to find the right truck for your needs.