How to Create a Book Cover Design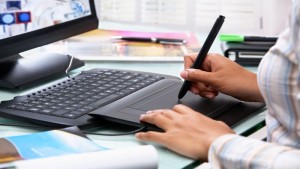 If you need to catch the reader's eye, you need to start with the book cover design. You cannot ignore the importance of the cover and focus only on the words. Some readers are visually minded and need this kind of stimulation. Think of the cover as a business card that gives a good first impression. Review several tips to help you make the most out of your book design.
Consider the Genre
Certain types of covers work with certain types of books. For instance, crime and drama books tend to have simplistic designs with bold black or red colors and large, bold letters. Children's and adolescents' books tend to have pictures of the main characters.
Books about nature or traveling are full of pictures on the covers and within the pages. Books about politics usually do not contain pictures at all. You may want to avoid following stereotypes and create a design that is different than all the others. However, most writers are encouraged to follow what other writers are doing in that genre.
Consider Pictures
Mystery and horror writers want to remain mysterious, but they should consider using pictures on the cover. Young people would rather pick up a book with pictures on it than one without pictures. Readers want to visualize the story as much as possible, so photographs and images are major benefits.
Review the Books Already Published
Another very helpful tip is to see the collections already on display. Walk down the aisles of your bookstore and review the books. Notice if books found in certain genres are designed a certain way. You may notice that the marketing techniques are different, too. For instance, books about current events, politics and celebrities are always placed in the forefront. Books for children are placed in their own separate section.
Before you come up with a book cover design, know about the industry and how books are being marketed. Regardless of how creative the cover is, it has to be entirely appropriate and understandable to most people. You do not want a book that gets pushed to the back of the displays. If you are promoting a horror novel, you should not allude to many details found in the book. Know that you should never create a cover that is talked about more than the actual book.
Romance novels are not the only types of books with appealing book covers. No matter what genre of writing there is, there are good covers found on the books. There is no need to be too elaborate with the design either because a simple design can be just as thought-provoking. The next time you are ready to publish a book, get many different ideas to prepare cover.