Getting the Most From Jet Ski Fishing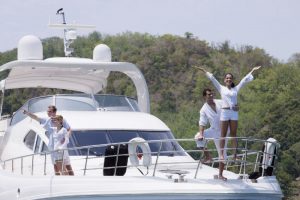 Jet Ski Fishing is growing in popularity by leaps and bounds and it's no wonder; you can have all of the pleasure and excitement of a fishing trip without as much hassle and expense. The fuel costs are cheaper, and so is the cost of maintenance when compared to a full-size fishing rig.
The only down side, until recently, was that if you wanted to enjoy the sport, you had to figure out how to lug all of your fishing gear on board your jet ski. That usually entailed coming up with some sort of homemade system that may or may not work. And if it did work, how long would it last when exposed to the elements and corrosive salt water? Well those issues have been resolved now and that is another reason that Jet Ski Fishing has gained so much popularity.
You can now purchase a jet ski fishing rack that will quickly and easily mount to virtually any jet ski manufactured in the late 1990's and after. The rack is not permanently attached and is easily removable for those times when you just want to be out on the water with your friends. It's built using marine grade stainless steel, so salt water corrosion is a non-issue.
This universal Jet Ski Fishing rack will carry your fishing gear, cooler, rod holder, and some models will even allow you to carry one or two gas cans. This will increase the amount of time you get to spend on your fishing trips which can give you a better shot at catching your limit.
One of the advantages of Jet Ski Fishing is that you can go when you want and where you want. If you're just getting into the sport, you will probably be most comfortable fishing the flats and backwaters and a jet ski will allow you to do just that. That will generally keep you away from a lot of boat traffic and the noise and wave motion that goes along with it. It won't be long before you're right at home channel fishing or even moving into serious deep water fishing. Whatever your preferences, you'll have everything you need within easy reach with your new fishing rack.