Chemical Blending for Sanitizers and Disinfectants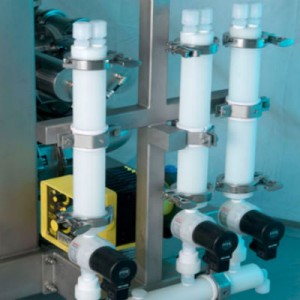 Chemical blending is often used to make private label disinfectants and sanitizers. Whether the formulations are used for janitorial supplies, or to clean food processing systems and equipment, the products are often created with sustainability and cost efficiency in mind. Making safe products that offer the utmost in cleaning performance is the major goal of most manufacturers.
Blending the Chemicals
Private label food processing cleaner companies utilize the services of labs to create chemical blended cleaners – a process that involves the use of chemical blending – from concept to completion and finally distribution. Therefore, chemical blending does not entail quickly mixing up some chemicals. Instead, the process involves following a thoughtful and in-depth product planning and creation process.
Any company that features chemical blending should be registered with the FDA in order to produce safe disinfectants, antibacterial formulas and industrial cleaning agents. The labels and the blending of the substances must coincide in meeting with the specific goals for a particular formulation.
Look for a company with a high chemical blending score  – close to excellent – if you want to make sure the formulations for your products are considered both effective and safe. Product safety evaluations should include safety overviews and stability testing. Companies that are involved in chemical blending often maintain a library of formulations through R&D activities.
Blending Equipment
The equipment that is used for the blending of chemicals is important too. State-of-the-art equipment allows chemical blenders to mix and add formulations that are placed into tubes from 10 to 55 mm wide and up to 200 mm in length.
Some systems that feature the blending of chemicals can fill as many as 3,500 tubes in an hour. Batching systems are also computerized so an exact duplication of prior orders can be made. Most all blended products are derived by tanks that are positioned on load cells. Raw materials are included by weight rather than by volume.
Scheduled Manufacturing
Private label formulation of blended chemicals can be ready in as little as a week. The lead times can differ, all depending on the order size and the availability of the raw materials. Sometimes, additional time is needed as processing may last up to ten days.
Therefore, if you are involved in the manufacture of product formulations, it is essential that the company you use be FDA endorsed. The company should also offer products that are not only affordable, but that can be made in a reasonable amount of time. The blending of chemical formulations involves using a company that understands all there is to know about mixing chemicals. Developing a strong relationship with such a firm will assure success in the market, as well as give more meaning to the personal brand of your company.