Reasons To Choose Double Doors For Your Home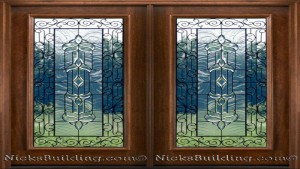 Most older homes, unless they are custom designed, feature a single door for the main entrance. During renovations and upgrades of these homes, and many that are still relatively new, adding double doors to replace a single door is a great option.
Sometimes people worry that double doors may look too overwhelming, imposing, or even too large for the home. The good news is that with all the different styles, designs and options available today it is possible to find a design style and a door size that will perfectly match your home décor, size and design.
Style and Design
While many double doors feature more ornate and elaborate types of designs and styles, there are also those that are very simple and almost minimal in their overall look. Both options can be ideal for any home; it is really just a matter of personal taste.
If you are choosing a more ornate set of double doors, consider matching the lines and patterns in the door with the design elements of the home. With the more classic styles, there is less of an issue as the door is more of an extension of the home rather than a stand-out feature.
Welcoming and Open
With a large lite, or a series of smaller lites on double doors, they don't look imposing at all. Rather, these doors look open and inviting, and they provide a bright, light and airy-looking entrance or foyer in the home.
For privacy, if this is a concern, choose a glass for the lite that is opaque or patterned so that it lets in light but helps to create a diffuse look into the interior of the home.
Practical and Functional
With double doors, homeowners enjoy the convenience to have literally double the space to move people and items in and out of the home. With the double opening, it is easier to move furniture or items without damaging doors, and this helps to protect the doors even in a busy entrance.
Once you have double openings for a front door, you will be surprised at just how functional this becomes. You will wonder what you ever did without the ability to have this extra space.
By choosing wood as the material for your double doors, and then selecting the glass and the stain to match your home and design style, these doors will enhance the look of any home.
If you are looking for double doors in a modern, classic or timeless style, look no further than Nick's Building Supply. To see our inventory and door options visit us online at www.nicksbuilding.com. You can also follow them on Twitter for more updates.